New Patients at Chiropractic CareCentre
As a new patient at Chiropractic CareCentre, you can take comfort in knowing you'll start feeling better from the very first visit. We're here to honor your health goals, whether that's relieving your pain, focusing on nutrition, or an optimized health plan including several areas of concern. We're here to help you reach your health objectives.
ONLINE FORMS »

To prepare for your first appointment, bring your photo ID, insurance cards, and paperwork, if you have filled it out ahead of time.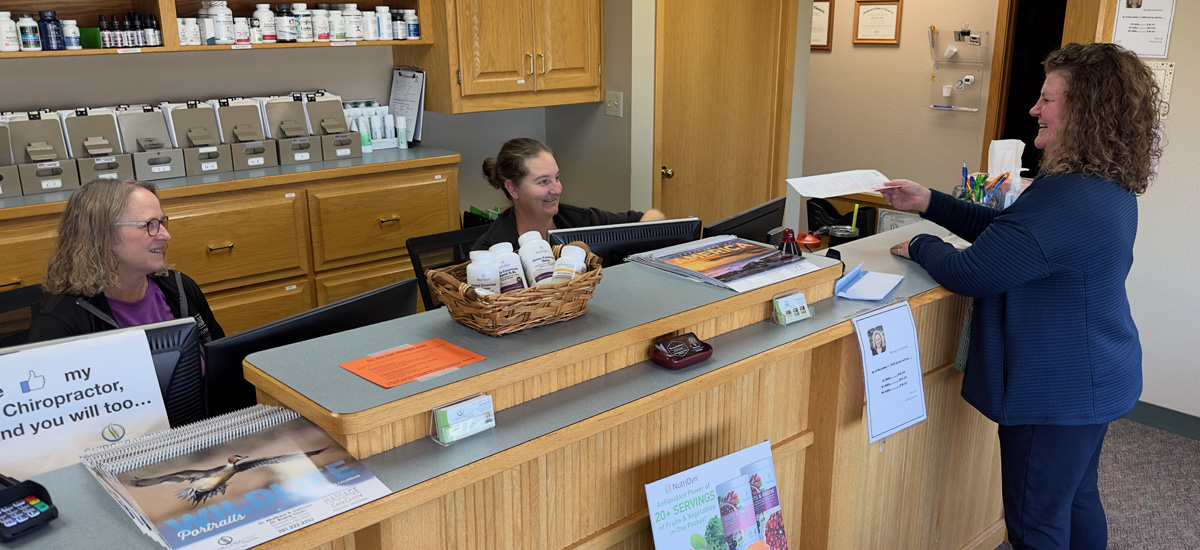 Your First Visit
During your first visit, our helpful chiropractic assistants Joanne, Kathy, or Kim will take your insurance information and paperwork. Once they get you settled in a room, one of the doctors will be right with you. They'll start the visit by asking you about your health history, your symptoms, and how they affect you.
Our primary concern is your health, and we want to support you with natural healing solutions. We'll make sure to fully explain the adjustment process to you and the results of your examination. And, if your needs can be better met by a different doctor, we'll recommend someone we feel is suited to address those needs.
Through various methods of chiropractic care, we'll get you back to feeling like yourself again. Depending on your source of pain, you may need a longer plan of action, but the doctors will take you through that process and what it will look like.
You can expect your first appointment to last between 30 and 45 minutes.
CONTACT US »

Regular Visits
Any follow-up or regular appointments usually take about 15 minutes. These brief appointments can help bring you to the highest levels of health, not only after you've suffered from pain and discomfort, but before the next problem occurs.
A consistent chiropractic care plan can help patients improve their lifelong well-being.
---
New Patients at Chiropractic CareCentre | (701) 222-2252